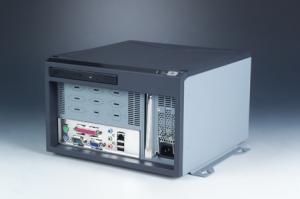 Embedded Servers
EMAC's Server-In-a-Box line of Embedded Servers and Industrial PCs are Single Board Computers built into small, rugged embedded servers. These Industrial PCs are just as comfortable in the industrial environment as they are on a desktop while providing only the requred portions of the functionality from a conventional server.
In order to toughen these embedded servers EMAC utilizes a Flash Disk in place of a hard drive and a fanless embedded SBC providing a server with no moving parts. On the software side, EMAC supports the most popular Embedded Operating Systems (OS), Embedded Linux and Real Time Linux, Windows Embedded Standard, or Windows 10 IoT. EMAC has the expertise to customize the Embedded OS build to meet your application needs if required. This custom Embedded OS build can be archived under a unique part number guaranteeing that you receive the correct build each time you order.
If your application does not require a chassis/case or power supply you can utilize one of EMAC's Single Board Embedded Servers. These Single Board Embedded Servers can utilize virtually any Single Board Computer that EMAC sells. Just select an SBC, add flash, and select an OS along with any extra components you might need.


Address:
EMAC, Inc.
2390 EMAC Way
Carbondale, IL 62902
Operating Hours:
Monday – Friday
9:00am to 6:00pm (CST) Tel: 618-529-4525
Fax: 618-457-0110
Copyright 2019 EMAC INC | All Rights Reserved | Powered by

BR DESIGNS