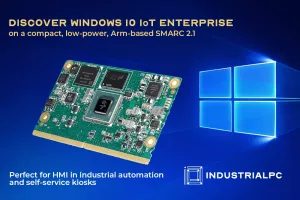 Windows 10 Now Supported on RISC, NXP iMX.8 CPUs
We are pleased to announce that Windows 10 IoT Enterprise will be released on the ROM-5720 and ROM-5722 SMARC Computer-on-Modules and RSB-3720 and RSB-3730. These products are based on NXP's i.MX 8M family of application processors. This highly-optimized Windows 10 IoT BSP delivers GPU support to i.MX 8M Processor family. The GPU driver supports the Verisilicon GC7000 UltraLite GPU onboard the i.MX 8M family of SoC, releasing powerful DirectX graphics capabilities.
A report from Arm and Microsoft surveyed developer attitudes about Windows on Arm, indicating that 81% of developers expect the Windows on Arm (WoA) market to grow in the next five years. We seek to deliver the enormous potential of WoA to our customers. Accordingly, the Windows 10 IoT Enterprise LTSC on NXP i.MX 8M is now available on the RSB-3720, RSB-3730, ROM-5720 and ROM-5722 products. This combination is excellent for device builders seeking solutions that provide low power, small form-factor devices with Windows IoT Enterprise for use in HMI automation and kiosk applications.
Windows 10 supported on RISC, NXP IMX.8 CPUs
Microsoft has released Windows 10 IoT Enterprise Base Operating system that will support the NXP i.MX 8 Series Application Processors; These processors include:
i.MX 8M
i.MX 8M Mini
i.MX 8M Nano
i.MX 8M Plus
This brings the windows 10 operating system environment to these RISC CPUs
What is Windows 10 IoT Enterprise Base on ARM?
Windows 10 IoT Base Enterprise on Arm is simply Windows IoT Enterprise built for ARM64 devices. Windows IoT Enterprise on ARM64 is the same OS as it is on X86 and X64-based devices, with IoT features available to help you build secure, powerful devices across any architecture. Since the OS is the same, the capabilities and the documentation are the same as well. Please refer to the standard Windows IoT Enterprise documentation for ARM64 guidance. The only noted differences are captured below in the list of exceptions:
Exceptions For Windows 10 IoT Enterprise Base on NXP i.MX 8 Family processors:
Emulation
On Arm-based devices, only X86 (32-bit) applications can be emulated on Windows IoT Enterprise.
Graphics Runtime
Currently, only D3D11, feature level 9.3 is supported on the NXP i.MX 8 family.
Hyper-V
Hyper-V is not supported on the NXP i.MX 8 family.
Windows 11
Windows 11 is not supported on the NXP i.MX 8 family