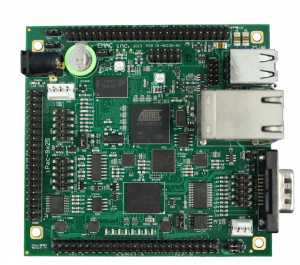 EMAC, Inc.; a leader in compact low power single board computer design and manufacturing has created the iPAC-9X25. Made in the USA this industrial strength embedded single board computer is based on Atmel AT91SAM9X25 Processor.  It has an industrial temperature range of -40C to 85C and utilizes 4GB of eMMC Flash, 16MB of Serial Data Flash (for boot), and 128 MB of DDR RAM.
The iPac-9X25 is a web enabled microcontroller based on the Atmel AT91SAM9X25 Processor; with the ability to run the Linux operating system and has an embedded server and to display the current monitored or logged data. The web connection is available via two 10/100 Base T Ethernet ports or 802.11 wireless wifi networking when using the proper Linux modules and adapters. This Microcontroller has all connectors brought out as headers on a board and has the same footprint of a standard PC/104 module at 3.77″ x 3.54″. The iPAC-9X25 is perfectly suited for Industrial Temperature Embedded Data Acquisition and Control applications.
The iPAC 9X25 has one (1) RS232 serial port with full handshake (RTS/CTS/DTR/DSR/RI), two (2) RS232 serial ports (TX and RX only), one (1) RS232/422/485 serial port with RTS/CTS handshake,  two (2) 10/100 Base T Ethernet ports, two (2) USB 2.0 Host ports, and one (1) USB Device port. The board has 7 channels of 12 bit A/D (0 to 3.3 volt) and an internal real time clock/calendar with battery backup.  It also includes 21 GPIO (3.3 V) lines on header, 8 high drive open collector dedicated digital output lines with configurable voltage tolerance, 16 GPIO (3.3V) on header, 2 PWM I/O lines with additional 4 PWN lines shared with A/D. The iPAC-9×25 has 5 Synchronous Serial I/O lines (I2S), 5 SPI lines (2 SPI CS), I2C Bus, CAN Bus, a micro SD socket,  an external Reset Button provisions and red Power and Green status LEDs.
The iPac-9X25 is currently aviliable. For more information on the iPac-9X25 please contact your EMAC sales representative.