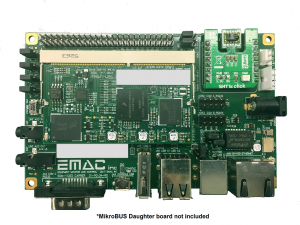 NEW PRODUCT PRESS RELEASE
Availability:  NOW
FOR IMMEDIATE RELEASE
DEV-IOT6U Industrial IoT ARM Development Kit
Designed and manufactured in the USA, the DEV-IOT6U is an easy to use Industrial IoT ARM development kit. This simple to deploy Internet of Things dev kit is based on the EMAC SoM-iMX6U; an ultra-low power System on Module (SoM) and the SOM-112ES carrier board.  The kit contains all the necessary cables, software and hardware to simplify development for the Internet of things.
The SoM-iMX6U is an industrial temperature ARM Cortex A7 528 MHz iMX6 UltraLite system on module with 4GB of eMMC Flash, 16MB of serial data flash, and 128MB of LP DDR2 RAM. The development kit feature 8x MPIO Lines, 2x RS232 ports, 1x USB to Serial & 1x RS232/485 Port, 3 USB Host ports & 1 USB Device Port, 1x 10/100 BaseT Ethernet, Wifi, & Bluetooth.  With an APM Sleep mode as low as 3.5mA, the DEV-IOT6U can run off an optional external battery when developing for remote installations.
Using the SoM approach, product lifecycle concerns for the processor, memory and other SoM based components are minimized.  It also allows clients to develop a product using a commercial off the shelf (COTS) system development/baseboard/carrier board for the proof of concept or production units. If the product or project has specific dimensional, I/O or connector placement requirements a custom carrier board can be created in as little as a month. Use of an off-the-shelf carrier board allows clients to start developing their software while the custom carrier board is being designed and built.
Product Details:
https://shop.emacinc.com/product/dev-iot6u/
Product Video:
https://www.youtube.com/embed/8Tm_EByEAdU
Features
Ultra Low-Power consumption of 3.5mA APM Sleep, or less.
Freescale/NXP i.MX6 UltraLite Cortex A7 528Mhz Processor
4 GB of eMMC Flash
16 MB of Serial Data Flash
Micro SD Card Socket
MikroBus Expansion from a MikroElektronika Click Socket, offering expansion through Mikroe Click boards
General I/O: GPIOs, SPI, A/D, D/A, PWM, I2C, I2S
2x serial RS232 ports, 1x USB to Serial & 1x RS232/485 Port
DB9 male for COM C, COM A and COM B are 10 Pin IDC headers
2x USB 2.0 Host ports
1x micro USB connector for serial console
1x dual USB Type A connector
1x single USB Type A Vertical connector
1x dual row 50-pin .1" GPIO/Misc. Header connector
2x audio in/out jacks
10/100 BaseT Ethernet with onboard Magnetics and RJ45 connector
Wifi/BT
IPEX Antenna included for development.
CAN 2.0B Port
1x 3-pin polarized locking connector
Micro SD Card Socket
Power:
5V DC power,
Barrel power jack
Standard Molex male floppy power connector for alternate power input
Please contact EMAC for OEM & Distributor Pricing.
About EMAC, Inc. – www.emacinc.com
EMAC is an acronym for Equipment Monitor and Control.  Our company designs and manufactures embedded systems that include Single Board Computers, System on Modules (SoM), Carrier Boards, Industrial Panel PCs, Custom Solutions and Embedded Operating Systems.
Since 1985 EMAC has provided commercial off-the-shelf and custom turnkey embedded products that can integrate the newest technologies including: sensor data, Wi-Fi, Zigbee, Bluetooth LE, GPS, cell modems, audio & video streaming /capture, FPGA, RFID and more.
Our team is experienced with hardware & software design, GUI interfaces, remote login, real-time solutions, Windows Embedded, DOS, Embedded Linux, Real-Time Linux, custom hardware drivers, application development and support. Contact the EMAC Sales Team today at 618-529-4525 or info@emacinc.com and learn how Our Products Make Your Products Better®